Question
HOW DO I JOIN THE MESSENGER PLAN THAT MESSAGES ME WHEN TO DO WHAT WITH MY PLANTS?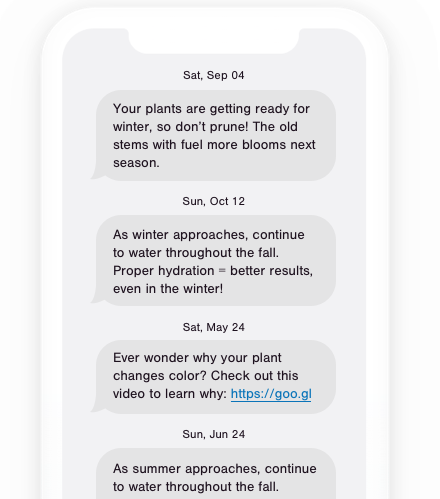 Answer
Signing up for our mobile support program is simple. We have text message programs for each of our three brands: Endless Summer Hydrangeas, First Editions Shrubs & Trees, and Easy Elegance Roses. We'll text you 6-10 messages throughout the year to remind you when to fertilize, trim and other tips to get the most out of your plants, with no spam or ads.
Each have the same code, so you can simply choose which one, or all, that you are interested in.
Just text:
 – EndlessSummer to 730-95.
 – First Editions to 730-95.
 – Easy Elegance to 730-95.
You will receive a welcome message and then a request to choose which part of the country you are located so the information is geared towards your climate!